Join The Dinner Detective For A Murder Mystery Event Unlike Any Other!
At this exclusive murder mystery event, you'll solve a hilarious crime that will involve your entire group. Just beware! The killer is hiding somewhere in the room, and you may find yourself as a Prime Suspect!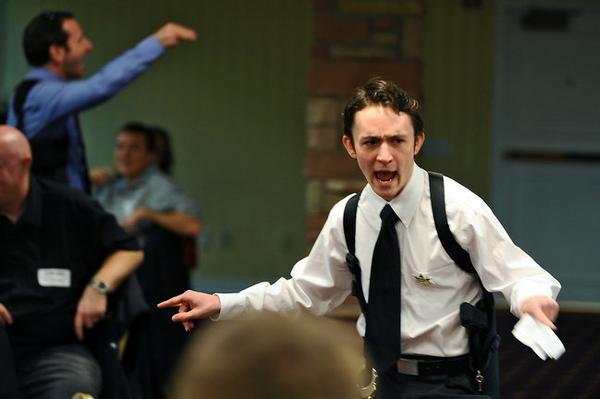 Our immensely popular murder mystery shows are set in the present day.
Unlike other murder mystery dinner shows (or just dinner shows in general), with The Dinner Detective, you will not find yourself staring at cheesy costumes, there will be no recited campy dialogue and certainly no hokey song and dance.
Our performers will be dressed just like everyone else at your event, leaving all of the guests to suspect who is a part of the show and who is not.
All scripts are based on actual cold cases and are created in house.
From the very beginning, many of the performers will be seated with your group, and you may not realize who they are, even until the end of the show!
Our Detectives enter the room, proceed to interrogate the shady people in the room, find clues and start the investigation. You will have plenty of time to socialize, interrogate each other and figure out who in the room is the killer.
At the end of the night, prizes are awarded to the Top Sleuth who solves the crime!
What You Need To Do From Here:
RSVP to the event, if requested by your group organizer.
Begin thinking about your code name. You will need to write this code name down upon arrival. Throughout the show, you'll be wearing a name tag that will have your code name for the evening. This code name isn't your real name (Susan, Bob, etc.), but an alias that you'll go by. Fun and unusual names are encouraged! Superheroes, movie characters, your favorite drink, naughty names... anything you like!
Show up on time! The show starts promptly, and we're just dying to meet you...