A Murder Mystery Dinner Experience Unlike Anything Else...
At The Dinner Detective, you'll tackle a hilarious and challenging crime while you feast on a fantastic dinner. Just beware! The culprit is hiding in plain sight somewhere in the room, and you may find yourself as a Prime Suspect before you know it!
Our engaging and unique murder mystery dinner theatre performances have been playing across the country since 2004. Join us for an evening full of intrigue, hilarity, and unscripted moments you simply can't find anywhere else!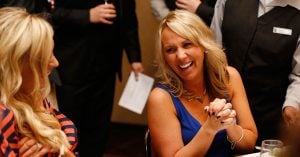 Unlike a typical murder mystery dinner theatre performance, you won't be watching a handful of actors stiffly reciting lines in front of the room. The action happens all around you, and any person in the audience can end up being a part of the show, even YOU! Throughout the night, you'll find yourself wondering if what just happened was scripted or real!
Since our Los Angeles Grand Opening in 2004, The Dinner Detective has quickly become the largest murder mystery dinner show in the United States. Our signature blend of intrigue, comedy, and spontaneity has enthralled millions of guests at our public and private shows.
Come see what all the fuss is about and join us at an upcoming murder mystery dinner show! Or if you are buying tickets for someone special, we offer gift certificates as well!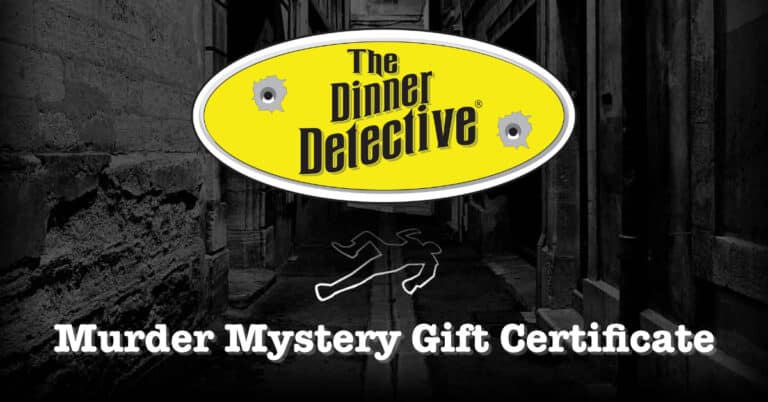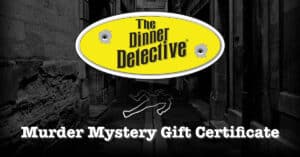 Murder mystery gift certificates are a unique, fun, and entertaining gift idea! Dinner Detective Murder Mystery Gift Certificates are a great choice for any adult on your list. Our Gift Certificates will send your friends and family on a mysterious and hilarious journey to solve a crime before our Detectives do!
Our murder mystery gift certificates are perfect for the December holidays, birthday gifts, Mother's Day or Father's Day gifts, Valentine's Day presents for your sweetheart(s), graduation gifts, or any other occasion!
The Dinner Detective regularly performs in 80+ locations across the country, and we offer both public and private shows every month. We've been featured in dozens of "best of" lists and websites nationwide, winning Best Murder Mystery Show and Best Dinner Theater many times over.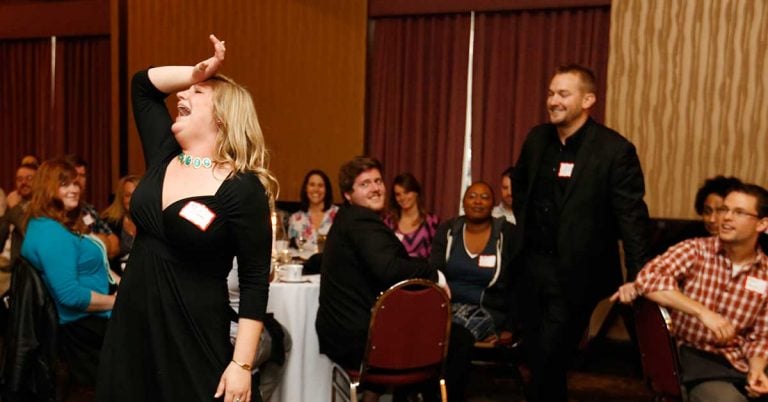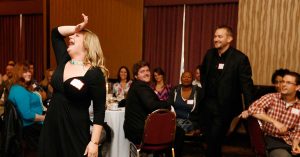 We also offer customized private events and group murder mystery parties at each of our locations, any night of the week! We have entertained tens of thousands of companies and private groups across the country, both large and small, and we'd love to craft a once-in-a-lifetime event for your team as well.
We can host murder mystery dinner theatre parties from 30 to 400, at our onsite locations and offsite at the venue of your choice!
Our professionally-trained actors have performed and taught worldwide, with credits from esteemed improv training centers such as UCB, Second City, iO and iO West, RISE Comedy, and Annoyance Theater, and with credits in The Virtual Detective, Better Call Saul, Orange Is The New Black, Jurassic World, Preacher, and dozens of other shows and theaters.
Ready To Join The Mystery?
Find Your Nearest Location Here!