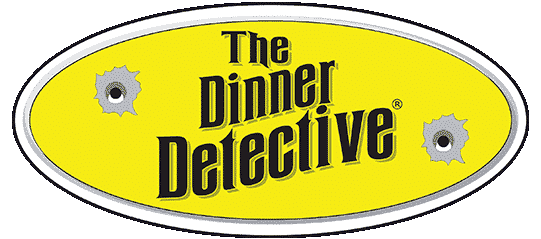 America's

Murder Mystery Dinner Show!
Murder Mystery Dinner Theatre With A Twist!
Now Playing In A City Near You!
Gentle Guide To Des Moines Theatre
Show Review
Whether victim or sleuth, a lively time is had by all (excepting maybe the dead body) when you go enjoy The Dinner Detective. Enjoy delicious food, determine the clues, and deduce who did the deadly deed… all before dessert. And take your place amongst the greatest detectives of all!
Ty T.
Yelp Review
We used The Dinner Detective to do a show for our charity dinner auction event. The crew of actors was fabulous. They interacted with our attendees and did a great job. This was an event where most people knew someone else, so they accomplished the job well. There were lots of great surprises during the show and awesome involvement with our people on engaging them during the event as suspects. Great job. Highly recommend.
Allison D.
Google Review
By far the best Murder Mystery Dinner Theatre I've ever seen! The actors are Fantastic, and the story line is to die for! We never stopped laughing, my cheeks hurt. Hats off to the Talent!!
This was such an incredible experience!!! Your high ratings doesn't do you guys justice! My family ages from nine to 72 enjoyed this show. I've been to others and I didn't have nearly as much fun. The audience partication is second to none. We will be returning with more people!!!!
At The Dinner Detective, you'll tackle a hilarious and challenging crime while you feast on a fantastic dinner. Just beware! The culprit is hiding in plain sight somewhere in the room, and you may find yourself as a Prime Suspect before you know it! Our engaging and unique murder mystery dinner theatre performances have been playing across the country since 2004.  Join us for an evening full of intrigue, hilarity, and unscripted moments you simply can't find anywhere else!
Unlike a typical murder mystery dinner theatre performance, you won't be watching a handful of actors stiffly reciting lines in front of the room. The action happens all around you, and any person in the audience can end up being a part of the show, even YOU! Throughout the night, you'll find yourself wondering if what just happened was scripted or real!
Since our Los Angeles Grand Opening in 2004, The Dinner Detective has quickly become the largest murder mystery dinner show in the United States. Our signature blend of intrigue, comedy, and spontaneity has enthralled millions of guests at our public and private shows. Come see what all the fuss is about and join us at an upcoming murder mystery dinner show! Or if you are buying tickets for someone special, we offer gift certificates as well!
Private Shows & Company Events:
Create A Murder Mystery Night To Remember!
Private Shows & Company Events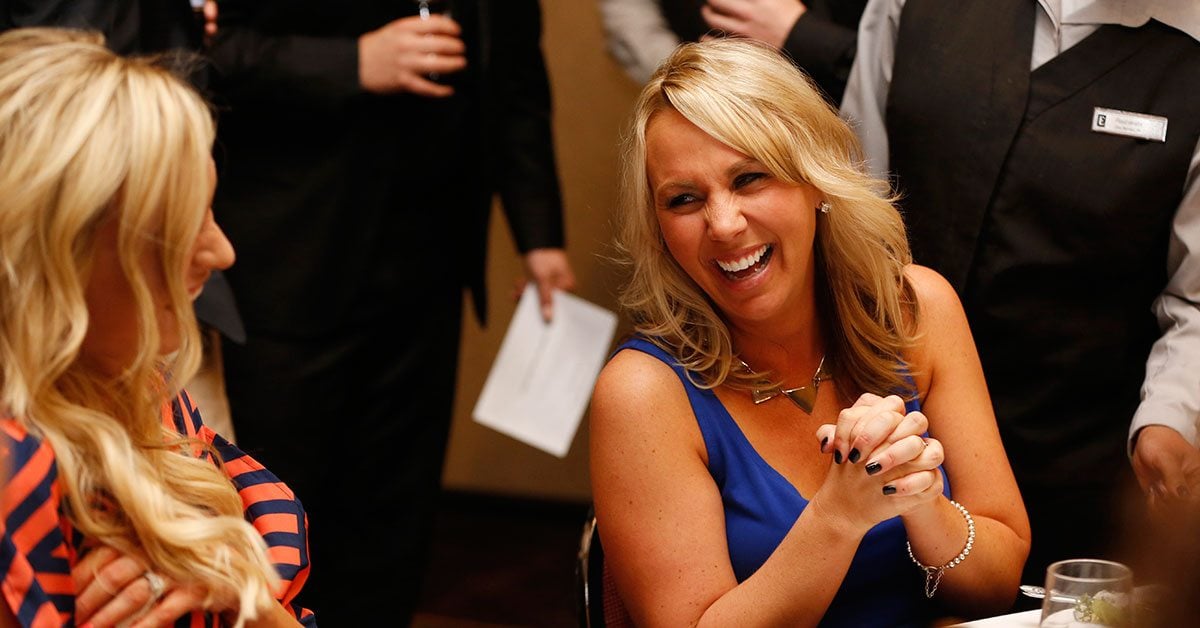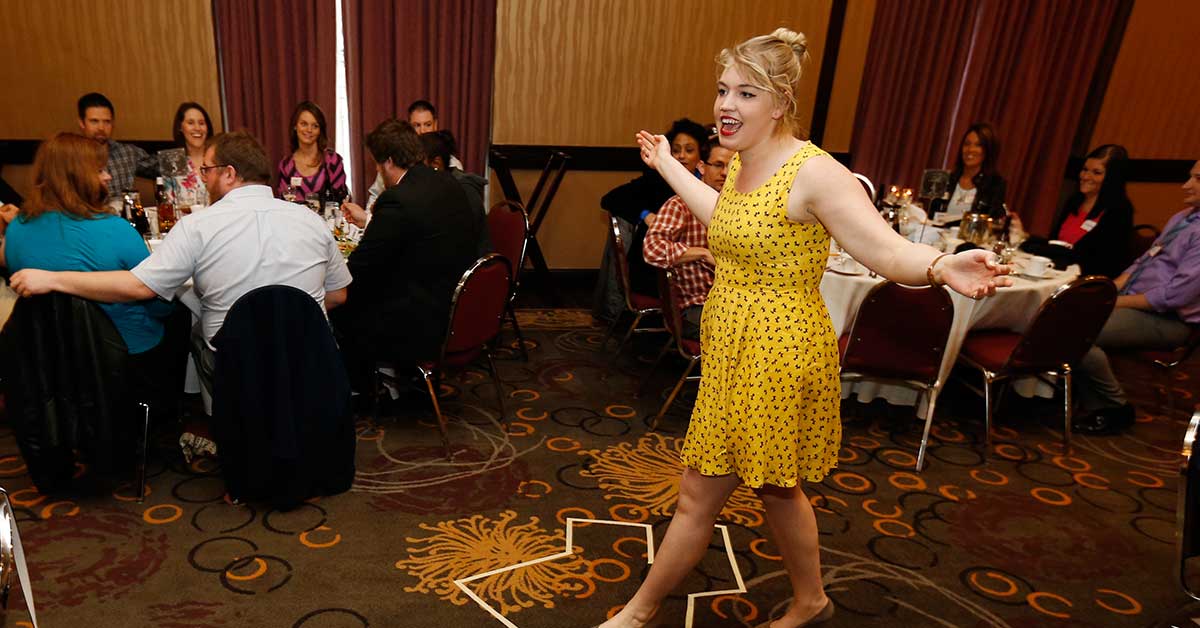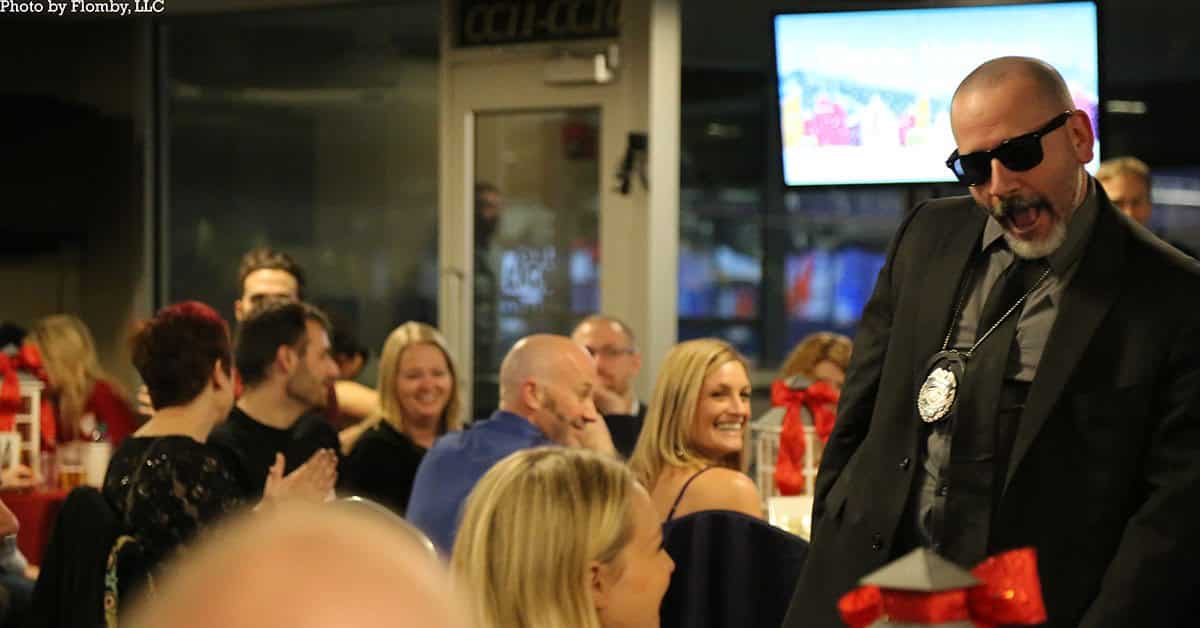 We also offer customized private events and group murder mystery parties at each of our locations, any night of the week! We have entertained tens of thousands of companies and private groups across the country, both large and small, and we'd love to craft a once-in-a-lifetime event for your team as well. We can host murder mystery dinner theatre parties from 30 to 400, at our onsite locations and offsite at the venue of your choice!
Our professionally-trained actors have performed and taught worldwide, with credits from esteemed improv training centers such as UCB, Second City, iO and iO West, RISE Comedy, and Annoyance Theater, and with credits in Better Call Saul, Orange Is The New Black, Jurassic World, Preacher, and dozens of other shows and theaters. We strive to engage all of your senses from the moment you walk through our doors and meticulously keep our focus on your overall entertainment experience. We guarantee your night with The Dinner Detective will be a night to remember!
Murder Mystery Gift Certificates:
Give The Gift Of Mystery!
Murder mystery gift certificates are a unique, fun, and entertaining gift idea! Dinner Detective Murder Mystery Gift Certificates are a great choice for any adult on your list. Our Gift Certificates will send your friends and family on a mysterious and hilarious journey to solve a crime before our Detectives do! Our murder mystery gift certificates are perfect for the December holidays, birthday gifts, Mother's Day or Father's Day gifts, Valentine's Day presents for your sweetheart(s), graduation gifts, or any other occasion!
The Dinner Detective regularly performs in 75+ locations across the country, and we offer both public and private shows every month.  We've been featured in dozens of "best of" lists and websites nationwide, winning Best Murder Mystery Show and Best Dinner Theater many times over.  Your murder mystery gift certificate purchase is good for any public show, up to a year from purchase!