Now playing across the country in the following locations:
Albuquerque, NM
•
Atlanta, GA
•
Austin, TX
•
Boston, MA
•
Charlotte, NC
•
Chicago, IL
• 
Cincinnati, OH
• 
Claremont, CA
• 
Colorado Springs, CO
• 
Columbus, OH
• 
Dallas, TX
• 
Denver, CO
• 
Des Moines, IA
• 
Fort Collins, CO
• 
Houston, TX
•
Indianapolis, IN
•
Jacksonville, FL
•
Kansas City, MO
• 
Long Beach, CA
• 
Los Angeles, CA
• 
Louisville, KY
•
Marina Del Rey, CA
•
Milwaukee, WI
• 
Minneapolis, MN
•
Oklahoma City, OK
•
Omaha, NE
•
Orange County, CA
• 
Philadelphia, PA
• 
Phoenix, AZ
• 
Portland, OR
•
Raleigh-Durham, NC
• 
Sacramento, CA
• 
Salt Lake City, UT
•
San Diego, CA
•
San Francisco/Oakland, CA
• 
San Jose, CA
•
Schaumburg, IL
•
Seattle, WA
•
Tampa, FL
•
Troy, MI
•
Ventura, CA
America's largest interactive murder mystery comedy dinner show. Solve a hilarious murder case while you feast on a fantastic four-course plated dinner. Just beware. The killer is hiding somewhere in the room, and you may find yourself as a prime suspect.
Our mission is to operate the single best murder mystery dinner show in the world. Because the overall product we sell is entertainment, our aspirations must be consistent with the promise we make to the customers who walk through our doors. To say that our mission exists independent of the product we sell is to demean the importance and the distinction of being in the business we are in. As entertainers and producers, we are determined to be the very best in our business, regardless of the size, pedigree or inclinations of our competitors. We will continue to bring our industry nuances of style and unique approaches to dinner theater which are consistent with our evolving aspirations. Above all, we expect to be a credit to the communities we serve, a valuable resource to our customers, and a place where our dedicated performers can grow and prosper. Toward this end, we will not only listen to our customers but embrace the idea that The Dinner Detective is at their service.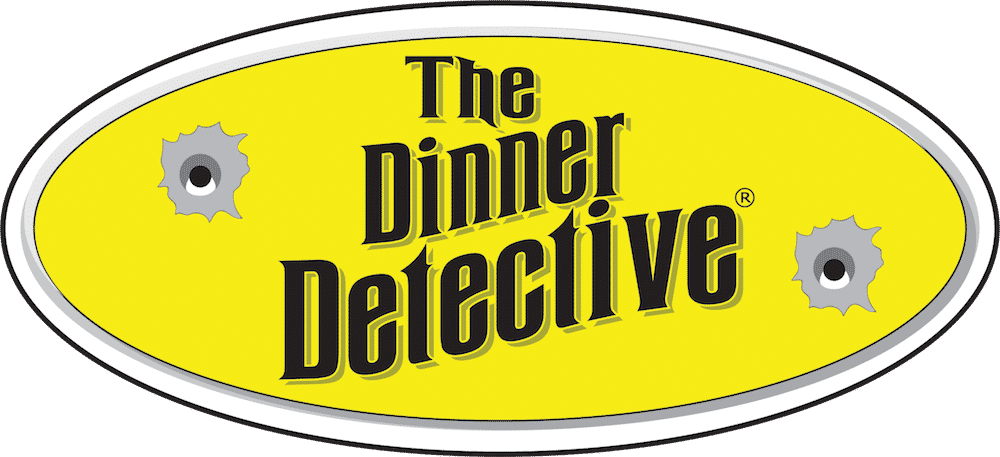 America's LARGEST Interactive
Murder Mystery Comedy Dinner Show.
Choose Your Crime Scene
For private shows, corporate events, and more info,
call (866) 496-0535.
Website and content © Dinner Detective. All rights reserved.