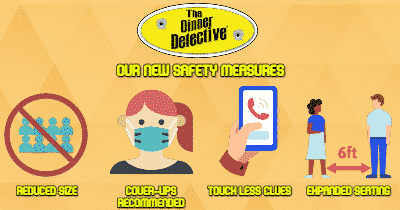 We are excited for the opportunity to welcome you back to a night of mystery, intrigue, comedy, and laughter. Safety of our guests, actors, and business partners is paramount to The Dinner Detective. Here's what you can expect at your next show.
Note: These guidelines are not exhaustive.  We adhere to all local and state regulations.
Modified Interrogation Reception – New format allowing guests to remain seated.
Touchless Clues – Clue station(s) available & clues accessible via smartphone.
Evidence – All show supplies are prepared with gloves, sealed, & delivered to each guests table side
Answer Form – Option to have them emailed & printed at home.
Attendance and Banquet Space – Reduced along with a larger showroom for greater distancing between tables. Larger tables with non-party guests seated six feet apart.
Face Masks

– 

All guests are encouraged to wear masks when not seated (required in locations where mandated by government); masks and gloves available upon arrival to the show.
Wait Staff – All servers will wear face covering & gloves throughout event.