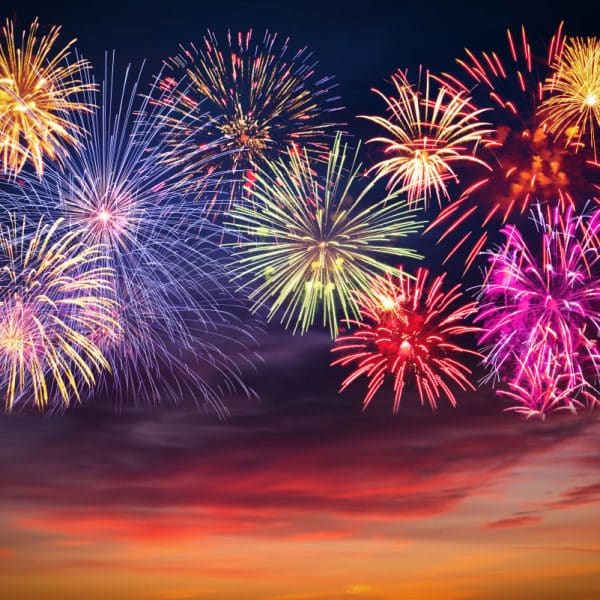 In the United States, we celebrate July 4th in remembrance of July 4th, 1776, as the birth of America independent, a nation separated from British rule. Interestingly, it was in June 1776 that Thomas Jefferson wrote the Declaration of Independence, July 2nd that the Continental Congress decided to declare independence and not until November the Declaration was delivered to Great Britain. So what gives with July 4th? As it turns out, July 4th was the day the members of Continental Congress approved the final draft of the Constitution, however, not yet signed. Fifty-six men ultimately signed the Declaration with the youngest begin Thomas Lynch, 27, from South Carolina and the oldest, and arguably most famous, Benjamin Franklin, 70, of Pennsylvania. Also interestingly enough, one out of every eight of the signers was educated at Harvard. My bet, they were all lawyers.
In 1777 Congress authorized the use of fireworks, quickly becoming a national favorite, and billion dollar industry, according to the American Pyrotechnics Association. But it wasn't until 1870 that Congress officially declared July 4th a holiday, and in 1938 changed it to encompass a paid holiday, for federal employees at least.
Maybe even more popular than fireworks are grill-works. Over 74 million Americans will grill out on the 4th, cooking an estimated 150 million hotdogs in addition to a shew of burgers, steaks, and chicken. Not in the mood to fire up your grill this year? You're not alone. Consider these local favorites spice up your July celebration, or any occasion to have some fun and escape the July heat in good ole American air conditioning.
Red, White, Brew & BBQ. Elevate your Independence Day as Rosemary Square presents Red, White, Brew & BBQ, a rooftop event from 6:30-10:30pm on July 4th, 2019.
With live entertainment brought to you by Brown Distributing & Brother Jimmy's WPB, enjoy a lineup of refreshing beverage favorites by Cigar City, Sailfish, Oskar Blues & Monkey in Paradise – all set to the city's dazzling backdrop atop the Gardenia Garage.
Limited space available. Ticket includes access to rooftop event, live music & entertainment, 1 complimentary drink, shirt and stadium event cup with a portion of sales donated to Quantum House. Food and beverages available for purchase. Parking is available in any of the 4 garages: first 80 minutes garage parking complimentary with standard rates to follow. Guests are encouraged to arrive early to due to increased visitation numbers in the Downtown West Palm Beach area on this holiday.
Fourth on Flagler. Celebrate Independence Day in spectacular style! 4th on Flagler boasts the regions biggest 4th of July celebration and features tons of entertainment, a kids area, the unfurling of a giant flag and a fireworks extravaganza at 9:00 pm. Nothing is more American than going all out on the Fourth of July. Leave it to the City of West of West Palm Beach to celebrate America's birthday (in a BIG way) during 4th on Flagler, the largest FREE Independence Day bash in south Florida! Celebrate 4th of July along the beautiful West Palm Beach Waterfront on Thursday, July 4 from 5:00 p.m. to 10:00 p.m!

With fun activities, live entertainment, patriotic highlights, and delicious food and drink options, adults and kids alike are sure to love celebrating Fourth of July in West Palm Beach. Best of all, don't miss the thrilling 18-minute fireworks extravaganza over the Intracoastal Waterway at 9:00 p.m.! The fun and FREE celebration is just one of the many reasons why we live in paradise.
The Dinner Detective. Nothing says love like making dad a Prime Suspect! Your evening of intrigue begins as soon as you and your party are seated for dinner. Everyone is a suspect, and the killer might even be at your table! As you enjoy a sumptuous meal, the plot will unfold around you. Official looking detectives will help you navigate the night to uncover clues, sort through facts, follow leads, and interrogate guests. Immerse yourself in the drama, and intensive interaction and you could find yourself awarded "Top Sleuth" for solving the crime and win a prize packet worth over a hundred dollars.
Do you have what it takes to uncover the culprit and solve the crime? Test your skills in this hilariously entertaining dinner show for less than dinner and a movie. Based on actual, real-life cold cases and set in present day, this highly interactive murder mystery dinner is a far cry from the campy cartoon characters you may have experienced elsewhere. By mixing realistic scenarios with a healthy dose of comedy, our Murder Mystery Dinner is sure to be an evening you'll not soon forget! Now playing at 1601 Belvedere Road, West Palm Beach, FL.
Mega Bash Fans can come to celebrate Independence Day at Roger Dean Chevrolet Stadium! On both Wednesday, July 3rd and Thursday, July 4th thousands of fans will come out the ballpark for Mega Bash, their most popular event of the season. Bounce houses, inflatables, and games will be set up in a MEGA Kid's Area. After the games, fans can enjoy a fireworks show, presented by the Town of Jupiter and Juno Beach! Wednesday, July 3rd- Lakeland Flying Tigers at Palm Beach Cardinals. Thursday, July 4th- Charlotte Stone Crabs at Jupiter Hammerheads. Gates Open Both Days at 4:30PM. Game Start Time Both Days at 6:00PM
Other suggestions you might like.
Top Scenes For Live Entertainment in West Palm, FL