A mysterious, treasure-filled castle in the Arizona desert? It's true. Dubbed the "Mystery Castle" and located in Phoenix, this local spot is open to tourists and visitors nearly every day of the year so everyone can appreciate the magic and mystery contained within its walls.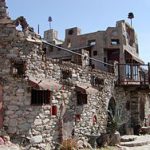 The story of the Mystery Castle begins in 1923 when Mary Lou Gulley was born in Seattle to her well-to-do parents Boyce and Frances. Mary Lou loved the nearby beach and used to build sandcastles there.  As the waves came in and knocked down her sandcastles, her father would promise that one day she'd have a castle big enough to live in, so she could be the princess of her own castle. Fast forward to 1927 when Mr. Gully left in mystery and was gone for nearly 18 years, with only the occasional letter sent home to his family. It wasn't until 1945, when Mary Lou received a letter telling her that her father had been diagnosed with tuberculosis and had only months to live. Afraid of giving the deadly disease to his family, he departed for Arizona, hoping the climate would help his pain. Unfortunately, Mr. Gully eventually passed away from the tuberculosis, but not before surprising his daughter with on more amazing gift.
In the letter, Mr. Gully told Mary Lou that he'd spent that past 15 years building her the castle she'd always wanted, located in the Phoenix desert. Mary Lou and her mother traveled to the castle to find a huge home with 18 rooms, 13 fireplaces, a chapel and even a dungeon. There was also one very mysterious room which Mr. Gully called "Purgatory." That room had a trapdoor which was to remain locked until January 1, 1948.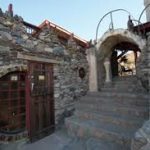 Over the years, Mary Lou honored her father's wishes, living in the 8,000 square-foot castle but never opening the mysterious trap door. Exploring the rest of the home, however, she found hidden treasures with necklaces, gold, cash, gems and notes from her father. It all lead up to the mysterious day on January 1, 1948 when even Life Magazine visited the Mystery Castle to find out what was in the trapdoor.
Inside the trapdoor was a 9-foot pit, which Mary Lou descended. She found more gold, cash and a letter from her father inside, but perhaps most touching was a photo of her father taken just before his death and a valentine Mary Lou had made for her father when she was just a young child. The trapdoor had contained a treasure trove of memories and love all waiting for Mary Lou to discover it, another gift from her loving father many years after his passing.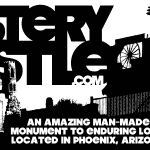 Today, visitors can check out the Mystery Castle, as the Gully family wanted to share the quirks and fascinating past of this unique home with anyone who wanted to visit. Tours are offered Thursday through Sunday from 11:00 a.m. to 3:30 p.m. and the cost is only $10 for adults or $5 for children.
If you're looking for a truly great mysterious day in the Phoenix area, start with a visit to the Mystery Castle and tour the winding halls as you learn all about Mr. Gully and his loving tribute to his family. Then, head to near-by Tempe where you can participate in your own interactive mystery with The Dinner Detective. You'll enjoy a delicious four-course plated dinner and the mystery will unravel around you. Someone will be murdered and it's up to you and your date to solve the crime. But be careful, because anyone and everyone is a suspect, even you. And the murderer may even be seated at your table. A visit to the Dinner Detective is the perfect way to cap off your own mystery-themed day of fun in sunny Arizona.
All the info:
The Mystery Castle
800 E. Mineral Road
Phoenix, AZ 85040
www.MyMysteryCastle.com
The Dinner Detective
At the Embassy Suites Tempe
4400 S. Rural Road
Tempe, AZ 85282
www.TheDinnerDetective.com