What is the best mystery book of all time? That's a tough question and open to seriously subjective opinions.  If you ask Amazon the top-selling Thriller in the mystery genre is "What You Did" by Claire McGowan, which admittedly, I have not read.  What is shocking to me is John Grisham didn't make the top 10! What's going on over there at Amazon?  Mysteries are thrilling and an adrenaline rush because life is about challenges, struggles, and riddles.  We escape into the plot, anticipate the turns and twist, and like our lives are often surprised at where the winding road takes us.  Life is not for the weak of heart.
But maybe you're not a reader.  In our world of cell phones, Facebook, Instagram, and apps for, well, everything it's easy to be entertained – or distracted – be not necessarily involved.  Sound familiar?  I have a couple of suggestions to catch the thrills and laugh out loud at the same time.  Consider a live, entertaining, funny, yet mentally challenging, murder mystery show.  Wait, make it even better, a murder mystery paired with a fantastic dinner!  Maybe add an adult beverage or three.  Good news, you're in Miami, FL, and you have options!  How about a traditional, heavily scripted and costumed themed show, typically set in an era such as 1920's Chicago gangster, or 1980's big hair and rock-n-roll?  Or maybe you're a modern, present-day, less scripted – more improvisational based type.   You know, scripts crafted from real-life cold cases and delivered with suspense but also a comedic kick.  Like novels, there is no one size fits all.  If costume and era driven scenarios, performed like plays, are your thing, consider Mystery on the Menu, playing in downtown Miami.  If you are wired more toward interacting, and suspense, delivered in a modern, fresh style, then consider The Dinner Detective, playing in North Charleston Convention Center.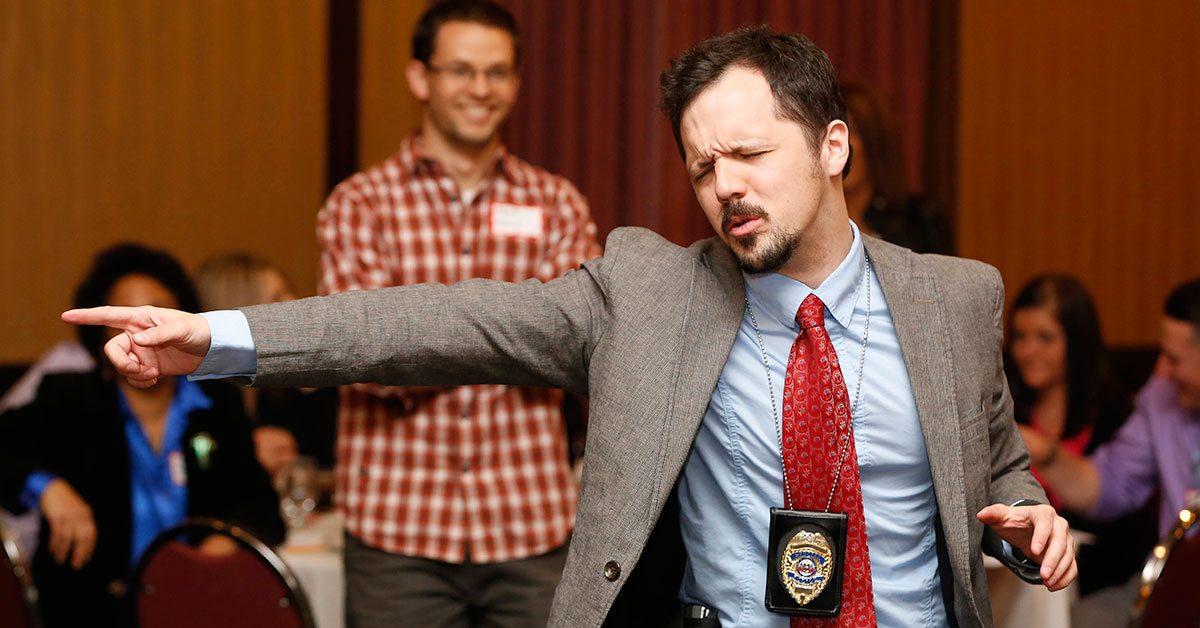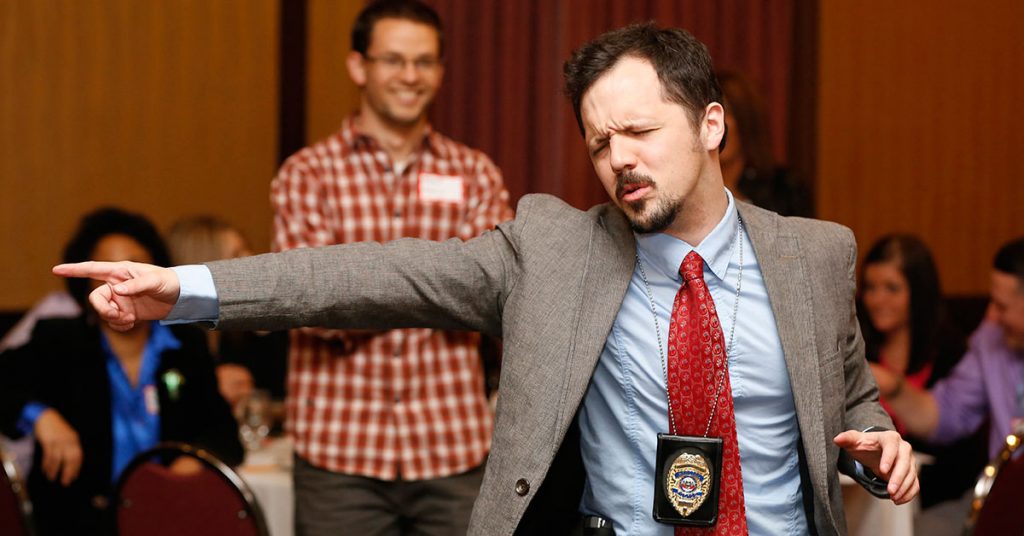 Regulars at The Dinner Detective will be excited to learn August 10th, 2019, they're rotating scripts to "The Hollywood Hit!" If you are a first-timer, you are in for a treat.  Unlike a traditional murder mystery, The Dinner Detective hides plain-clothed professional actors in the audience with other seated guest.  Guests are seated at round tables in a circle as the show happens around those tables, and throughout the room.  This setup delivers an excellent vantage for everyone as you decide who's in on it and who's not.  Seems simple enough, right?  Not quite.  Throughout the evening, other guests are interjected into the drama, and it becomes more and more challenging to ascertain who's simply a guest and who's part of the show!  The answer, of course, is EVERYONE is part of the show.  I don't want to give away too much, but the night unfolds as the Detectives reveal and guide you through clues, presenting you with ample opportunity to unravel the mystery pin the killer and tale home a prize package valued over a hundred dollars.
Not only is the night highly entertaining, but you'll get to mingle and meet new people. It's a great icebreaker for new relationships, singles, or couples celebrating a special occasion.  There have even been several marriage proposals, and the current acceptance rate is 100 percent! Here's the point.  Life is short, busy, distracting, and often grueling.  It's time to take a breath, relax, and get a little more mystery in your life, even if it's for only one night.  Who knows, you could be seated next to a killer or find yourself a Prime Suspect in a murder investigation!  Good luck!
If you enjoyed this article you might also like: Top Scenes For Live Entertainment in Miami